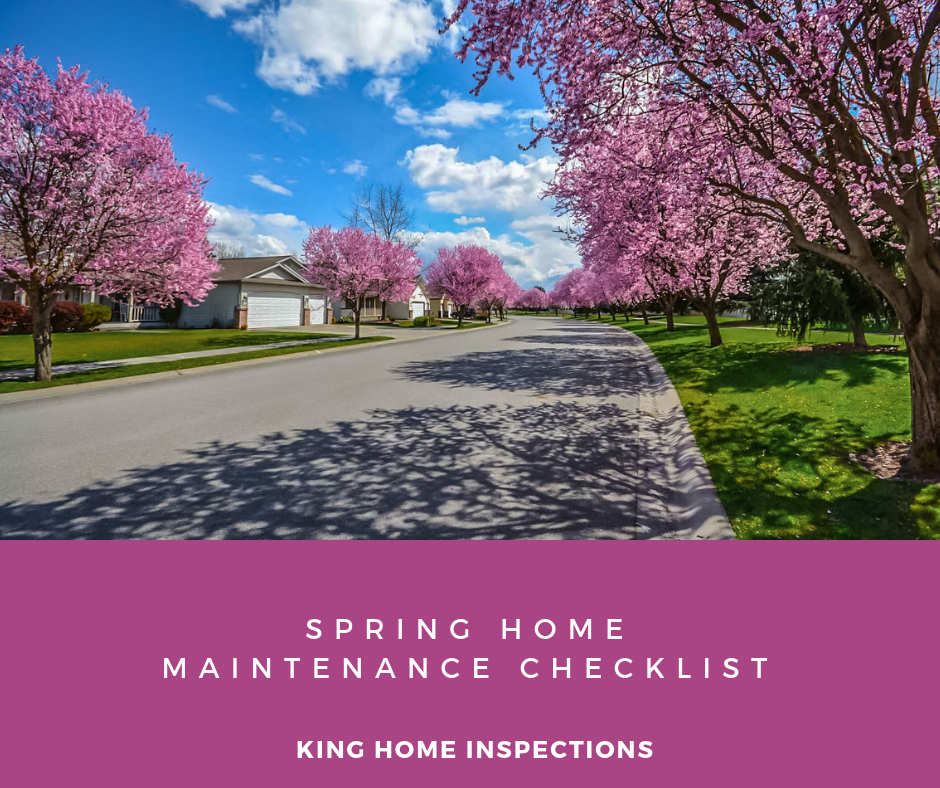 With a new season approaching, now is the perfect time to spruce up your home, starting with spring home maintenance. It is important to check and maintain critical systems such as your roof, air conditioner, gutters, and safety equipment semi-annually. Think of it as a health physical, but for your home.
Here is a checklist of spring home maintenance tasks.
Inspect Your Home's Exterior
Inspect roofing for missing, loose, or damaged shingles. Look for excessive granule loss as well. This can be done safely from the ground with a pair of binoculars. If repairs are needed, contact a licensed roofer. While you're outside, also check your driveway, walkways and patios for any signs of cracks or movement. Give your curb appeal some TLC, if needed, by touching up the paint and trimming the landscape.
Maintain Your Air Conditioning Unit
Don't wait until summer's triple-digit temperatures to check your air conditioner. Filters should be routinely changed; standard every month and HEPA every three months. Hire a qualified heating and cooling contractor to clean and service the AC unit. By regularly maintaining your air conditioner, it will operate more efficiently, thus saving you money on summer cooling costs.
Stop Air Leaks
Caulking and weatherstripping around windows and doors – the biggest culprits for air leaks – are cost-effective methods for reducing heating and cooling costs, increase comfort, and create a healthier indoor environment. These materials are DIY friendly and can be found at local home improvement stores. If your utility bills are higher than average or are experiencing other problems, invest in a home energy audit.
Get the Gunk Out of Your Gutters
Spring showers can cause a host of problems if your gutters are clogged with leaves and debris from previous seasons. The expert recommended interval for gutter cleaning is every six months; more if your property has a lot of trees. You can either do this chore yourself or, if you're not comfortable with using an extension ladder or you live in a two-story house, hire a professional.
Perform a Thorough Safety Check
Test your smoke and carbon monoxide detectors to ensure they're working (the NFPA strongly encourages doing this monthly). Replace batteries annually. Alarms that were installed more than ten years ago should be replaced. Always follow manufacturer's instructions when testing or replacing detectors. You'll also want to maintain all fire extinguishers. Finally, review emergency plans with your family.
Consider a Preventative Home Inspection
If you're not planning to sell your home, but are considering major renovations, then a preventative home inspection from a qualified home inspector may be a worthy investment. A home inspector can help you identify and prioritize home improvements and repairs. Many inspectors provide same-day, thorough, and easy to understand reports. An inspector may also guide you in the right direction regarding which city and county permits to pull first.
King Home Inspections guarantees thorough home inspections, every time. Our inspectors, who have extensive construction experience, only complete two inspections per day. This ensures 100 percent of attention is given to you and your home. Detailed computer-generated reports are always provided the same-day of the inspection. Request a home inspection appointment today at (602) 550-1913.